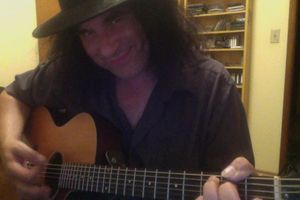 Steve Grandinetti Musician Author Artist
Steve Grandinetti is a published author of SONGS OF A PRODIGAL SON, a new American novel, with two more novels and a book of poetry coming out; a visual artist with over 1000 works of art including paintings, drawings and more in various media; and an internationally acc;aimed recording/performing artist, multi-instrumentalist (Keyboards, Guitars, Drums, Percussion, Bass, Harmonica, Melodica) and BMI affiliated singer-songwriter with four albums, Jonjano Baro, Heart Of Me, Only Love Is Real, My American Heart.
He has performed with The Neville Brothers, Lil Buck Senegal, Henry Gray, Rosie Ledet and the Zydeco Playboys, Paul Rishell & Annie Raines, Don Mock, Jay Roberts, Ben Rice, Deborah Coleman and shared the stage with The Band, NRBQ, Willie Nelson, The Goo Goo Dolls, Walter Trout, playing throughout the United States. He has worked in theater and film, including Sound Designer for "King Lear" at KCPT and musician/composer on "Johnny Suede" feature film. 
His music is aired on radio stations KISM, WEQX, KPFT,KPTZ, KBRW, as well as internationally and online.
He studied at Manhattan School Of Music, Julliard School of Music, Fordham University, University of Pennsylvania, Adelphi University, New York University Film School, Loyola University Music School, Loyola Law School, Tulane University, New School for Social Research, with BA, MSEd degrees in music and psychology. 
A lifelong educator he continues to teach several instruments privately and online with LIVE MUSIC TUTOR; he has also taught in several school systems bringing Jazz, Blues and Rock music to the students, Centrum Blues Workshop and Centrum School of Rock which was based on his own long time music school.
He is a vegan, live food enthusiast, fitness, tai chi, qi gong, yoga, and a sadhana which includes meditation, prayer, spiritual study, dream work. A member of Yogananda's Self Realization Fellowship since 1988.